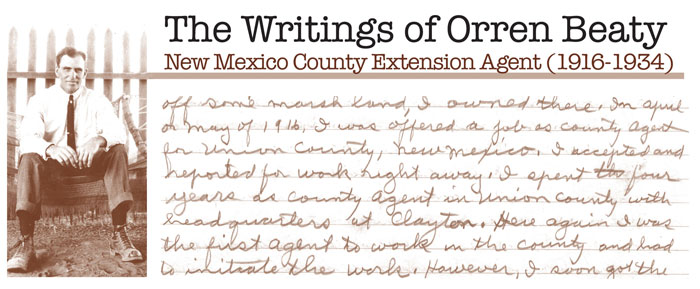 ---
Las Crucen, 87, Saw Agricultural Changes
Southwesterner in Focus
Written Especially for Sundial
May 10, 1970
---
LAS CRUCES, NM. - Orren Beaty, was 87 years of age March 27, recalls the changes that have taken place in Agricultural practices during his lifetime. He has been on the front lines of the breakthrough, as farming changed from a one-man gamble with perhaps inferior seed, uncertain weather, insects, and plant disease and risky markets to a more specific operation and a more business-like endeavor.
He pioneered in extension work, both in New Mexico and in Oregon, and during the depression-crisis of the thirties, it fell his lot to pioneer once again- this time with the Farm Security Administration.
It was June, 1903 when the youthful Orren Beaty, newly graduated from High School in Walkerton, Ind., set about earning money to travel west. His goal was Oregon.
There, he did a variety of work available to a lad of his age, including a year's teaching in the public schools of the Pendleton area, before he enrolled in the Oregon Agricultural College at Corvallis.
Graduated in 1909, he took a job as assistant superintendent of a project to develop a dry farming experimental station at Moro, Oregon. Among the variety of experiences which accompanied this assignment was taking the census on some 100 isolated farms. Four pages of questions were to be answered; some farmers, feeling the tax collector would use this information to raise their taxes, were not too cooperative. All were starved for news from "outside" as there were no telephones or newspapers in these rural homes, and Beaty recalls he existed with little sleep, after late-night conversations.
In 1915 he joined the department of Agriculture's fledgling cooperatives extension program. More...